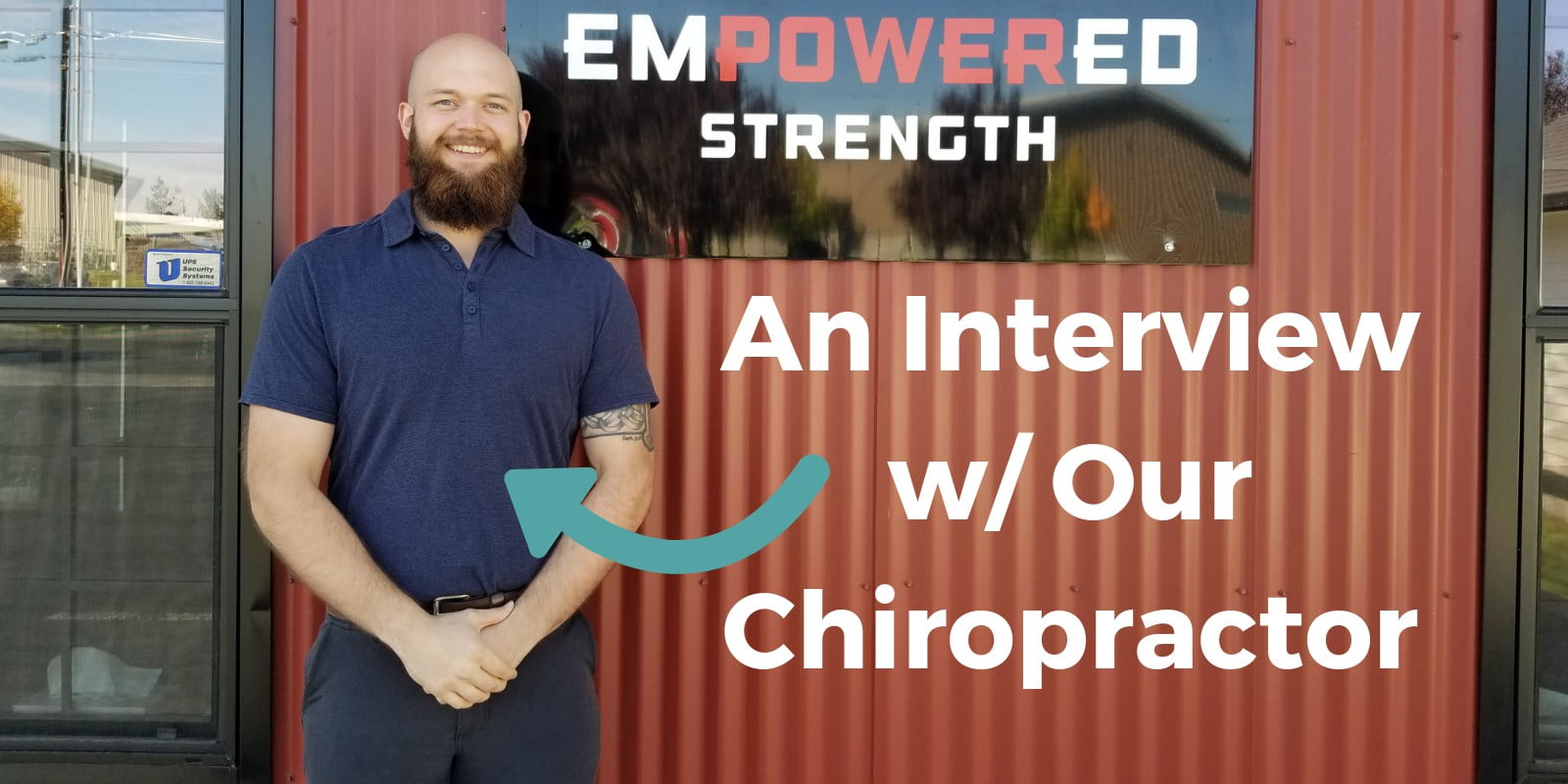 Recently, our good friend Nick Heuer graduated from the University of Western States with his Doctorate in Chiropractic.
Now, we are super thankful that he has chosen Empowered Strength as his home-base of operations, as he builds his practice. At our facility, we've taken quite a bit of pride in being able to work with, and improve, the conditions of many individuals who have experienced injuries or have just finished their physical rehabilitation. With Nick now a part of our systems, we're excited to be able to house many more services under our single roof.
As a good way to help introduce him to you, we've asked him 5 simple questions in this basic interview:
1) Why did you choose to become a chiropractor?
When I was in school, I was always attracted to the medical field. I started training for a paramedic program, then a nursing program, but neither of these allowed me to help people in the ways that I knew I could. Both fields felt too restrictive. Helping people meant trying to fit them in a cookie-cutter model of treatment. I chose to become a chiropractor to be exactly the clinician the patient needs me to be: A partner in recovery and someone who cares about his or her personal goals. I was drawn to this field because it allows me to utilize a long list of treatments and modalities that keeps the treatment patient-centered. I chose chiropractic, because it enables me to adapt to my patients with whatever treatment approach is best received by the individual.
2) Who do you look up to?
I look up to those who exemplify excellence in their field and aspire to do the best they can for others. I like to keep people around me who show humility in the work that they do. Striving for the betterment of others, I believe, is one of the most noble qualities one can possess. Those who can admit their faults and make a strong commitment to change in the light of something better are strong role models for me.
3) What impact do you wish to make?
I hope to serve the communities of Empowered Strength, and the greater Bend area, in the best way I can. I wish to teach people the power behind movement as an essential part of our everyday lives. I hope to share the knowledge I have learned in school to help people understand more about the nature and existence of pain. I want to empower the people who come to see me to not think of themselves as broken, but strong. I hope to bring a strong sense of positivity and hope to people's lives where injury or disability have made them feel helpless.
4) How do you feel you differ from other professionals?
My goal as a chiropractor is not to be different, as much as it is to be what the patient needs out of their care, and to deliver the best mode of treatment I can for that individual. I use many of the same techniques and modalities as many other practitioners, but I put a strong emphasis on moving well and proper joint stability. This movement approach is combined with chiropractic adjustments and muscle work to create an optimal environment for the body to heal. Treating this way gives the patient increased resilience from further incidences of the same injury. I feel my role is to help the patient learn to protect their body from injury, rather than treat the symptom and wait for the patient to return with the same problem.
5) When are you accepting new patients?
Summit Active Care, my chiropractic end of the business, is accepting new patients now!
If you have any interest in my services for yourself, or wish to refer someone else, please visit my website at www.summitactivecare.com. There, on the home page, you will find a "Schedule Appointment" button that will lead you through a few simple steps to make an appointment and be seen promptly.
If you are unsure about the treatment I provide, please call for a Free Consultation to see if this would be the right fit for you and your goals at (458) 202-0922.
—
Interested in scheduling an appointment with Dr. Heuer?
You can also do so easily with just a click of the button below:
Want to learn even more about Dr. Nick's background?
Check out his full bio HERE.